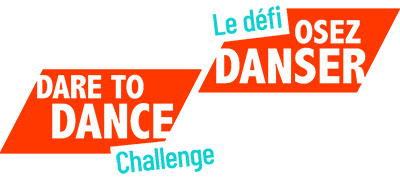 Each year, schools all across the province participate in Dance Nova Scotia's Dare to Dance challenge. What exactly is the challenge? It's simple. All you need to do is create 20 minutes of dancing opportunity at your school during National Dance Week April 22 – 29.
Students of all ages, teachers, staff …everyone can join in! You can dance a little every day or save all the fun for International Dance Day, which takes place on April 29, 2023. You can teach groups of students the same "moves" or have everyone dance freestyle. As well as in the gym, why not dance in the classroom, the halls or the school yard? 
If you want your school to participate — public, independent, CSAP, First Nations, here's what you do next: The challenge is for a school to have their students (and staff) dance for 20 minutes sometime during National Dance Week — April 22 – 29. And by dance, we mean the whole school!
If your school is interested or if you know a school—public, independent, CSAP, First Nations— that you think should join the challenge, here is what you do:
– Register your school by filling out the form below
– Compile ideas for celebrating dance at your school
– Start brainstorming ideas with students and staff
Dance also supports a number of curriculum outcomes, so you can build movement and music into a range of classes, including:
Health
Demonstrating the benefits of active leisure and quiet leisure in having a healthy mind and a healthy body.
Social Studies
Especially for topics like major cultures of Nova Scotia; e.g. Acadian, African Nova Scotian, Gaelic.

Language Arts
As dance builds skills in "Speaking and Listening".



Visual Arts
Developing skills and confidence in self-expression.



Dance Nova Scotia is here to help! If you have questions, or need more information, ideas, resources or dance experts in your area, please contact our program coordinator:
Julie Robert, Program Coordinator
danceweek@dancens.ca
902-422-1749