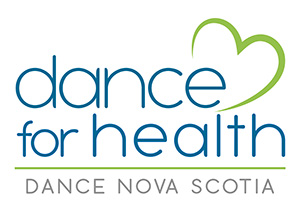 Dance for Health is an initiative of Dance Nova Scotia, promoting the role of dance in a healthy lifestyle. Currently, Dance for Health focuses on issues specific to older adults. Through specialized workshops and partnerships, we continue to build more opportunities for adults and seniors to enjoy the many benefits of dance. After an extensive consultation process with dance teachers across the province, the program was launched in May 2015.
The initial workshops focused on topics and concerns aimed at teachers who want to teach dance to seniors. Since then we have conducted many workshops helping dance teachers and those working with senior populations. The aim continues to be about building foundations for further exploration of topics of interest regarding seniors and dance, but also to include other health and/or ability related areas where dance and movement can be an aid.
In our continuing efforts to expand this program and the content of the material we deliver, Dance Nova Scotia has been developing relationships with organizations such as The National Ballet School and the Dance for PD program developed by David Leventhal of the Mark Morris Dance Company. The goal is to expand opportunities for seniors within their community to access dance classes and programs. This is one of the ways Dance for Health: Seniors continues to maintain a proactive focus on dance's role in issues related to the health and well-being of older adults and seniors. 
DANCE FOR HEALTH: SENIORS

DANCE FOR HEALTH: SENIORS is a government of Nova Scotia funded specialized pilot program that focuses on issues specific to older adults, most prominently Parkinson's and Dementia, but also includes the general aging population.
Dance for Health: Seniors uses music, movement, and education in a safe social setting to engage participants on how they can use light motion to help improve their quality of life, and that of their caregivers, while living with Parkinson's.